November 23, 2019
Located in San Marcos, CA 92078
(1955 Diamond St.)
@ 10:00 am to 4:00 pm
THIS CLASS IS NON-REFUNDABLE (Unless cancelled by the instructor)
The Range Backpack and Crescent Tote are the two options for this class.
Links to purchase the patterns are highlighted below.
You will learn how to install a zipper to create a pocket and how to attach your hardware to your bags. It is a useful and fun to make! The fold-over top and closure keeps things secure, while the front zippered pocket keeps essentials within easy reach. The adjustable straps make it wearable in any season. The Range Backpack Pattern can be purchased here:
Get The Pattern Here!
The Crescent Tote is a simple bag and good for beginners. Christmas is coming and this is a great gift idea for that special loved one in your life! The Crescent Tote is perfect and petite. This is a great everyday bag pattern. Purchase The Crescent Tote Here:
Get it Here!
Supply list:
Range Backpack or Crescent pattern by Noodlehead Fabrics (see patterns for fabric requirements and notions), sewing machine, interfacing, ruler, fabric marker, pins, seam ripper, scissors, Wash Away Wonder tape, hardware for backpack (see pattern can be purchased at Noodle-head.com as a kit), Cotton webbing (for Crescent tote), thread, 14-16 denim needle.
Contact Hannah Gioutlos for Questions at 410-916-4195 or Modistrasews@gmail.com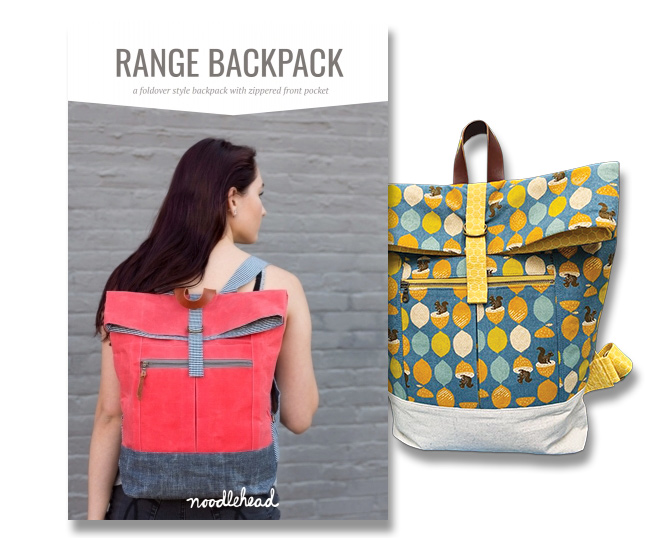 PLEASE have the pattern, all fabric purchased, all pieces cut out and all interfacing fused to fabric before class. This will ensure you will have time to start sewing up your bag or tote.
NOTE: This workshop will get you started on making the Range Backpack. You might not finish it in one day. This will ensure you will have time to start sewing up your bag.